History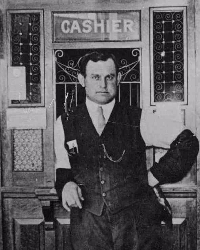 The Farmers National Bank was established September 20th, 1917 by Asher B. Wilson, E. A. Milner and Cashier C. M. Slocum. In April 1918 J.C. Hamilton joined the bank as cashier and with his firm belief in the Magic Valley, proceeded to procure the majority of bank stock within the next year.
J.C. Hamilton was a sportsman and enjoyed hunting and fishing. He had faith in the Magic Valley and the multiple crops that could be raised here.
In 1918, in a personal letter to his parents in Missouri, he states, "I believe this is the best producing country I have ever been in. They can raise all kinds of crops, and as fine of potatoes as one would wish to see. Before coming here I thought my hunting and fishing days had ended, but both are good in this local. I can make enough money to buy some of the good products raised around here, and occasionally catch a trout or kill a few ducks, we will get along fine!" J.C. then proceeded to invest all of his money in his dream. He weathered a number of rough times over the years with the trying agriculture times of the Twenties and the Great Depression of the 1930's.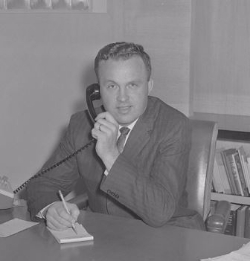 J.C. 's son, J.P. (Pat) Hamilton, started working for the bank in 1946. In 1966 J.P. Hamilton succeeded his father as President. At that time the bank's assets totaled around 3 million dollars. A branch office was opened in Hagerman in 1970. Soon after, in 1973, the Hagerman office was moved to Wendell.
In the late 1970's through 1990 a third generation of Hamilton's came on board to solidify the bank into the next millennium.
In 1989 a third office was started at 890 Shoshone St. in Twin Falls. A fourth office was added in 1997 at 1097 Blue Lakes Boulevard in Twin Falls, and followed shortly after by the opening of a fifth office in Jerome in 1998.
In 2005 Mike Hamilton assumed the duties of president for a third generation of family bankers. Shortly after, in April of 2008, our sixth office was added for your convenience on Pole Line Road in Twin Falls.

Starting in 2014, a fourth generation of Hamilton's joined the family business continuing the tradition laid down by their grandfather and great-grandfather.
As of December 31, 2022, bank assets totaled more than $643 million.
Over the years a lot of things have changed, but one thing hasn't, our personal commitment to serving the people that make up the Magic Valley. 
Farmers Bank is, and will always be:
"A Tradition You Can Count On"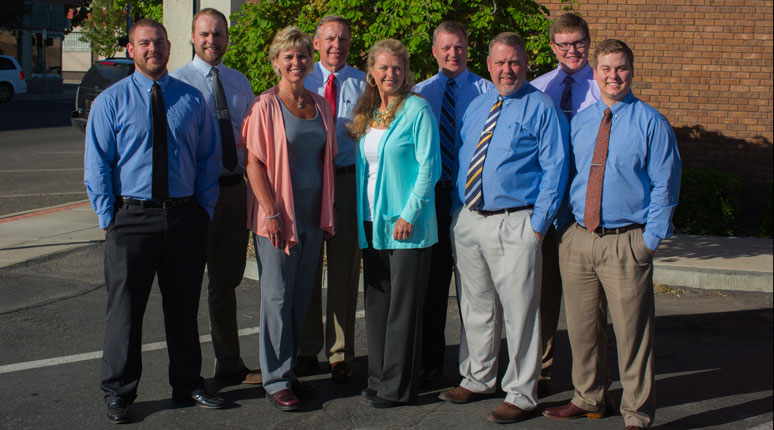 Left to right: Nick Hamilton, Matt Hamilton, Ann Lively, Mike Hamilton (President), Kathy Amoth, Vince Hamilton (VP), Pat Hamilton (VP/CIO), Markus Lively, Jack Hamilton