Farmers Bank Auto Loans: Local Financing for Your New Car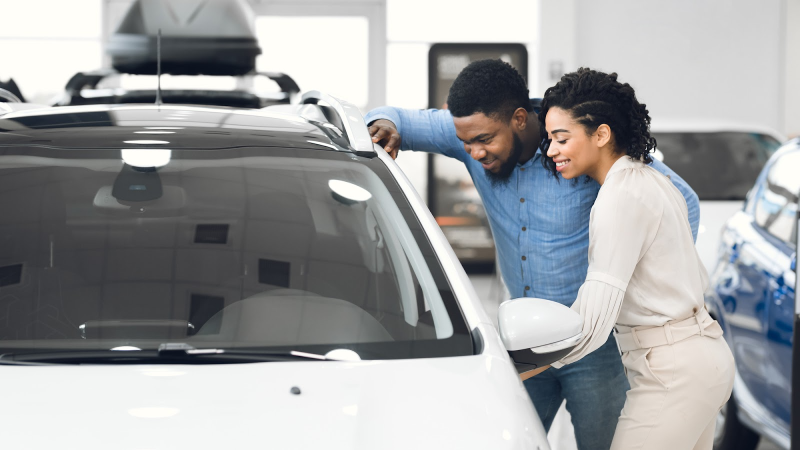 Have you had your eye on that new truck for a while? Or maybe you are more practical and prefer to go with a solid pre-owned vehicle. Either way, Farmers Bank can help you get into a new set of wheels with an auto loan!
Getting your loan directly from Farmers Bank is the smart way to finance your new car or truck because you can cut out the middleman and work directly with a trusted financial institution that has been in business for over a century!
It's no secret that financing a vehicle through a car dealership tends to come with a lot of add-ons that they convince you are necessary to ensure that your car and loan are covered.
Once you pick the vehicle you want, car dealerships will get you into a room with their "loan officer" who is really just an expert salesperson. This is the person who then proceeds to use confusing language and terminology to explain that it is in your best financial interest to pay more.
Why Finance Your Auto Loan Through Farmers Bank?
Taking out a loan directly from Farmers Bank can save you from the hassle and headaches of working with the dealership's financier, and it may even help you avoid uncomfortable conversations with your spouse about why your monthly payments are so high.
Here are a few reasons why getting your auto loan from Farmers Bank may be right for you!
You Won't Pay an Auto Loan Origination Fee
Many financial institutions will charge you an origination fee when setting up an auto loan or any other type of loan. An origination fee is sort of like a processing fee for the work that goes into creating your auto loan.
This is a practice that is used to make the loan a little more profitable and protect the financial institution against a potential default. However, since an auto loan is a type of secured loan (a loan that is backed by a physical asset), an origination fee really isn't necessary to mitigate a potential loss.
You'll Work Directly with a Local Loan Officer
Financing your auto loan through a dealership involves taking out a loan from a third-party financial institution that works directly with the dealership, and you will almost never meet the lender face to face. These auto loans are designed to maximize profit for both the lender and the dealership, so it is usually in your best interest to work with a local loan officer when possible.
When you take out an auto loan through Farmers Bank, you will be dealing with someone who works for a financial institution that is local to your area. You can have the opportunity to meet with them at a local Farmers Bank branch to discuss your financial history and see if a Farmers Bank auto loan will work for you.
If you are unsure of whether or not you will qualify for an auto loan, it is a good idea to meet with a local loan officer to fill them in about your credit history and income. That way, they can help you determine whether or not you should apply for an auto loan.
When you apply for an auto loan through a dealership, the loan officer is often unable to provide insight into the necessary criteria for qualifying, so it can be a shot in the dark at times. Dealerships are happy to run your credit and see if any of their lenders will grant you an auto loan, but they are often not concerned with how this will impact your score.
Loan officers at Farmers Bank have a much better understanding of the criteria since they work for the financial institution that will be handling your auto loan.
You Can Set Up Automatic Payments
You can create automatic payments using your Farmers Bank checking account. Having automatic payments set up for recurring payments is always a good idea to make sure you stay current, especially when a late payment could negatively impact your credit score.
With your Farmers Bank checking account, setting up automatic payments is easy to do online or through the Farmers Bank mobile banking app.
Your Rates are Fixed
A Farmers Bank auto loan always provides fixed rates throughout the entire lifecycle of your auto loan. Reading a contract for an auto loan can be difficult as they are full of legal and financial jargon that makes them difficult to understand, and they often contain certain clauses that can result in an increased payment schedule.
When you finance your vehicle with a Farmers Bank auto loan, you will never be surprised by your monthly payment because you know your rate is fixed.


How to Apply for Your Farmers Bank Auto Loan
If you are ready to apply for your auto loan through Farmers Bank, the process is quick and simple.
You can start by contacting one of your local branches in Buhl, Twin Falls, Jerome, or Wendell to schedule a meeting with a loan officer, or you can simply stop by one of our offices to inquire.
When you meet with a local Farmers Bank loan officer, you can discuss your financial history and the vehicle you would like to purchase, and your loan officer will verify the vehicle's value on the NADA website to make sure you are getting a fair price.
If you decide to apply for an auto loan, you will need to fill out a short consumer loan application to qualify for your auto loan. Please note that your rate will depend on several factors, such as your financial condition, credit report, and down payment. Your rate will also be affected by the term of the loan and the mileage on the vehicle you are purchasing.
When you are approved, the funds will become available to transfer to the seller shortly after. At the time of purchase, Farmers Bank will collect sales tax for the vehicle, and the title will be transferred to your name once the loan is paid off.
Choose Farmers Bank for an Auto Loan You Can Trust
Farmers Bank has been financing auto loans since cars first entered Idaho's Magic Valley. When you finance your auto loan through Farmers Bank, you are working with local people you can meet face to face. So cut out the middleman and get your auto loan from Farmers Bank!
Find the nearest branch to set up a meeting with a local Farmers Bank loan officer!