Farmers Credit Cards: Credit You Can Trust from Farmers Bank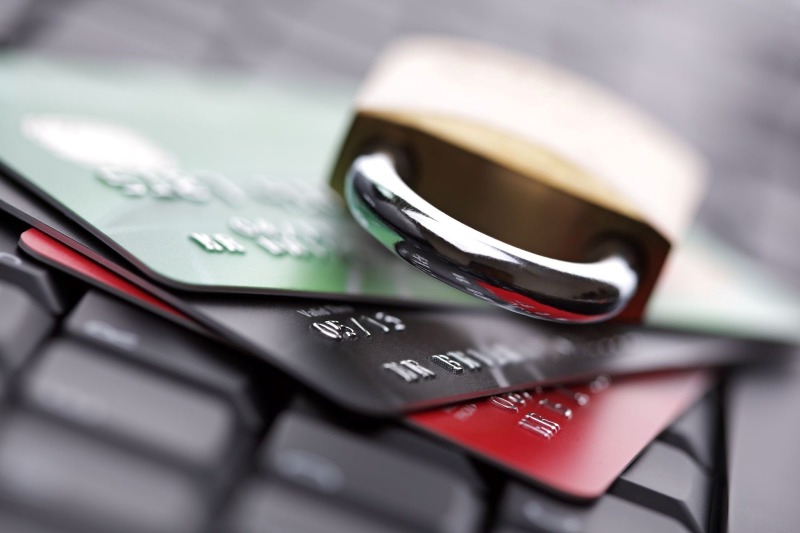 Are you looking for a safe and powerful way to build your credit, pay bills, and complete online purchases? With a Farmers Credit Card, you are getting a card that is packed with features and a convenient way to make purchases anywhere.
Here's why a Farmers Credit Card is right for you!
Use It Anywhere
The Farmers credit card by Visa® is recognized worldwide, so you can make purchases no matter where you are. Whether you are traveling overseas or doing some online shopping from your couch, your Farmers credit card will work with virtually any merchant.
Enhanced Security
All Farmers credit cards are equipped with EMV chip technology. EMV chips provide a way to make purchases without sharing your credit card information directly with the merchant. When you use your EMV chip, your credit card will send an encrypted version of your card information at the point of sale. The encrypted information is then sent to Farmers Bank in order to verify the transaction.
This means that your credit card purchases will always be safe when they are completed by inserting your chip into the card reader or by using touchless pay!
No Annual Fee
Looking for a card with no annual fee? Just open a Farmers Bank Tradition Checking Account, and you will never be charged an annual fee for your Farmers credit card as long as your checking account is open.
Stay Protected Against Theft and Fraud
With your Farmers credit card, you will never be responsible for unapproved transactions. If your card is ever lost or stolen, you can cancel the card by calling or reporting the loss of your Farmers credit card online.
Once your lost card is reported, you can have a new one issued to you within a few days. However, if you are in an emergency and need cash right away, you can request an emergency cash disbursement which you can pick up within hours of your bank's approval.
Build Your Credit
Using your Farmers credit card is a great way to build your credit! One of the best ways to do this is by using your card for automatic bill payments. And when combined with your Farmers Bank checking account, you can pay off your card automatically every month and watch your score increase!
Use Your Farmers Credit Card for Business
When you are approved for your Farmers credit card for business, you are getting all of the same great features you would get with a personal Farmers credit card, plus several added features that make managing your cards simple and easy.
Even if you have more than one employee who needs a Farmers credit card for your business, you will still receive a single monthly statement with a single monthly payment.
You can easily track and control your business expenses among your employees because each Farmers credit card has a unique credit card number. You can also limit spending by setting individual card limits for each of your employees.
Control Your Card with CardHub
You can take advantage of all your Farmers credit card features with CardHub in your mobile banking app. When you enroll in mobile banking with Farmers Bank, you can take control of your Farmers credit card and use it to its full potential right from your mobile phone!
Added Protection
Your mobile banking app will give you even greater protection against theft or fraud by allowing you to turn your card on or off with the touch of a button. You can also report the card missing directly from the app to prevent fraudulent charges if your card is compromised. This will save you valuable time in the event that your card is stolen.
Digital Wallet
You can add your card to your digital wallet in just a few simple steps. Just tap the banner for the digital wallet you prefer from the cards page, then follow the prompts to verify and add your card.
Your Farmers credit card will be ready to use from your digital wallet immediately, and it only takes a few minutes!
Once your card is added to your digital wallet via the Farmers Bank mobile app, your card will be ready for online purchases and touchless pay wherever it's available.
Spending Insights
Your Farmers Bank mobile app also categorizes transactions automatically to give you better insight into your Farmers credit card spending habits. These insights into your spending habits can help you plan your finances better by giving you a detailed view of your transaction history.
From the cards screen, scroll down to the bottom to open Spend Insights. Here you will see an easy-to-read graph that shows you your monthly Farmers credit card usage. You can also filter by month or transaction type to see when and where you spend money.
Cards on File
With this powerful tool, you can keep track of who is storing your card information. Merchants who store your card information are usually online businesses that keep customer information on record for faster checkout, as well as providers of monthly subscriptions and services.
By opening a specific merchant under the Cards on File section, you can see a complete list of all your transactions with the merchant. You can also use the merchant contact information within the app to start an email or phone call!
Manage Your Card
Your mobile app also gives you the ability to manage your card details. You can set your pin, create alerts to notify you of transactions, and even enter your travel plans to avoid declined transactions if you use your card while on a trip!
Farmers Bank is Here for You
Take control of your spending while building your credit Farmers credit card! Farmers Bank has been serving residents in South Central Idaho for over a century, and over the years, we have been improving our services and features to offer you the best banking experience available.
Whether you are looking for a credit card, a checking or savings account, or a loan, Farmers Bank has a solution to help you on your financial journey. Click here to find a branch near you!