Full Banking Benefits on the Go with Interactive Teller Machines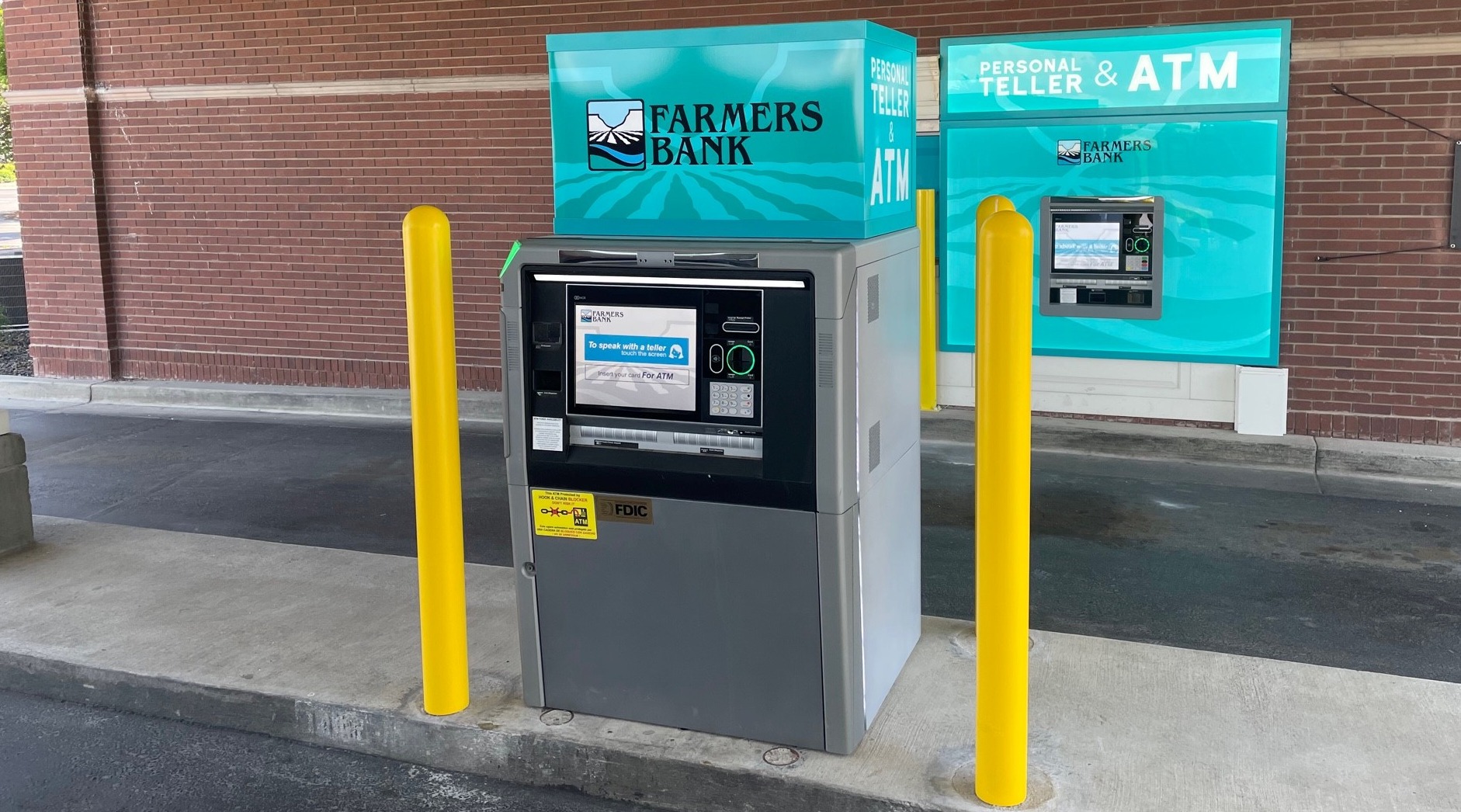 Have you ever been out running errands and thought you needed to run by the bank, but you could not make it inside for one reason or another? Maybe you had a baby in the backseat who you'd finally just gotten to sleep. Or perhaps you weren't feeling well and didn't want to risk getting someone else sick. In many cases, you can run through the ATM lane outside the bank, but sometimes you need to speak with a real person who can answer your questions or cash a personal check and dispense the funds immediately. Whatever the case, banking just got a little more convenient in the Magic Valley with Farmers Bank interactive teller machines.
Interactive teller machines (known as ITM for short) are hybrid ATMs that allow you to speak with a bank representative during regular business hours and complete almost any transaction you can do inside the bank.
In this article, we will look at what you can do with an interactive teller machine to highlight the benefits available to customers of Farmers Bank. We will also review some of the transactions we still compete with inside the bank to protect your accounts.
What You Can Do with an Interactive Teller Machine
As we mentioned earlier, you can do almost anything with an interactive teller machine that you can do inside the bank, but an interactive teller machine is more than just an upgraded ATM. It offers many conveniences you would expect to find when carrying out a transaction face-to-face with an actual bank teller.
Live Video Chat
When you use interactive teller machines, you will speak with real local representatives from Farmers Bank over a live video chat, which means you will receive the same friendly and helpful service you would expect inside. When you're in front of the machine, a Farmers Bank representative will be able to see and hear you, so you can rest assured you are being assisted by a real person in the same state you're in. There's no need to worry about whether you are getting accurate information from an automated chatbot or sharing personal details with a stranger overseas. All of our interactive teller machines are staffed by actual Farmers Bank employees, so you can speak to them with the same level of trust that you are accustomed to.
However, you should keep in mind that Farmers Bank employees are only available via interactive teller machines during normal business hours, so transactions made outside these times will be limited to those you can make using a standard ATM.
Make Deposits
When using interactive teller machines, you can make deposits the same way you would inside, but with one small difference. You don't need to fill out a deposit slip! Just let the teller know that you would like to make a deposit, and they will walk you through the process.
With interactive teller machines, you can deposit checks and cash, and you will receive instant credit as long as the deposits are made within normal business hours. For cash deposits, instant credit will continue to be provided with interactive teller machines, no matter what time the deposit is made. Furthermore, all check images will be printed on your deposit receipts to help you keep track of your finances.
Cash Checks
With an ATM, you would need to deposit a check and make another trip to your bank on the following business day to withdraw cash. But with interactive teller machines, you can cash checks right from your driver's seat and get your money on the spot. That said, we ask that you endorse all of your checks to protect you and the person who wrote the check against potential fraud.
Withdraw Cash
If you'd like to withdraw some cash from one of your accounts, your friendly Farmers Bank representative will help you with that as well through interactive teller machines. After verifying your identity, just let them know how much you would like to withdraw and from what account, and they will dispense the cash in any amount up to $3,000.
Make Installment Loan Payments
If you are in a hurry and want to make a loan payment while you are near the bank, interactive teller machines provide a convenient way to cross that off your list. The process for making installment loan payments via interactive teller machines is exactly the same as making your payment inside one of our branches, except it's easier and more convenient.
Simply help the Farmers Bank representative locate your account by providing the necessary information, then let them know how you would like to make your payment. Once the teller gives you the green light, insert your payment method and be on your way!


Transfer Funds
Transferring funds between accounts is also available with interactive teller machines. If, for any reason, you are unable to access your Farmers Bank account online, just swing by one of our branches to process your transfers without ever having to step foot inside.
Interactive Teller Machines Limitations
While interactive teller machines allow you to carry out most of the same transactions you can perform inside Farmers Bank, this technology has a few limitations.
Certain Types of Payments
In order to protect your accounts, some payments will still need to be made inside one of our branches. These include credit card payments, agricultural loan payments, flooring loan payments, and operating loan payments.
Deposits Limited to Thirty Items
If you need to deposit more than thirty checks or bills, you will need to step inside one of our branches. This ensures that your deposits are accurate and that the machine reads all of your bills and checks as it processes your deposit.
Does not Accept Coins
Another reason why you might need to go inside one of our branches is to deposit coins. Because of the additional resources interactive teller machines would need to process coin deposits, ITMs and ATMS alike are unable to count coins and add these funds to an account.
Experience the Convenience of Farmers Bank
Here at Farmers Bank, we are committed to doing everything we can to create the best banking experience possible for our members.
With six convenient locations across Buhl, Jerome, Twin Falls, and Wendell, Farmers Bank has been serving residents of South Central Idaho for over a century, so stop in to visit with one of our friendly bankers to find out why thousands of account holders choose Farmers Bank! Or if you have any questions, feel free to give us a call!