Merchant Processing
Few businesses today can survive without offering flexible payment options to their customers. Today's Merchant Services solutions are easy to implement and practically pay for themselves.
Even better, when you use our merchant services and credit card processing through Farmers Bank, you'll have our Customer Service Department as your merchant services liaison. Our Customer Service Department will provide you local service and support, starting with creating a customized merchant services solution that will best fit your needs.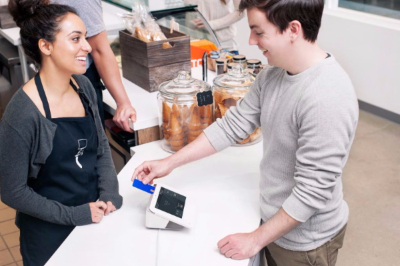 Farmers Bank's Merchant Services product offerings include:
Accept payments via mobile device and/or point of sale terminals.
Telephone touch-tone capture.

E-commerce payment systems.

Virtual terminals for mobile debit/credit card processing.
Gift card services.

Additionally, the benefits of Merchant Services can lead to significant cost savings and increased profits for your business.

Flexible payment options entice customers to purchase more from your store. Our Twin Falls area Merchant Services options support all major credit and debit cards including Visa®, MasterCard®, Discover®, and American Express®.

Fewer instances of "bad checks". You'll have faster access to your money, typically within 48 hours.

Reduced cost of equipment. Our programs are competitively priced and include local servicing for the life of your relationship with us.

Ready to get started? Contact our Merchant Services Department or call them at 208-734-1500.