UChoose Rewards

How it Works:
You will accumulate points for all of your transactions.

For every $3 spent on signature based transactions, you will receive one uChoose Rewards point.

For every $6 spent on PIN-based transactions, you will receive one uChoose Rewards point.
You then redeem your points for various merchandise and gifts through uChoose Rewards!.

In-Store pickup of merchandise.

Electronic Gift Cards.

On-Line purchases with Electronic Gift Cards.

You may earn even more points from merchant participating in uChoose Rewards! 
A maximum of 120,000 points can be earned per year.
Points will expire 3 years from the end of the month in which they were posted.
Multiple Farmers Bank check and credit cards can be registered together.
View all reward choices, check your point balances, redeem your points for rewards, and track your orders.
Start Earning your Rewards Points Today!
You must register at www.uchooserewards.com to start building your points today!
uChoose Rewards is our way of saying, "Thank You" for choosing FARMERS BANK as your partner in providing financial solutions.
Use your Farmers Bank Check Card for all your purchases and sign away . . . to get away!
Spending money has never been so rewarding.
FARMERS BANK can't wait for you to start earning your uChoose Rewards points.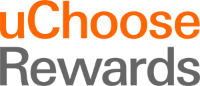 **There are no additional fees for the uChoose Rewards program.