Credit Cards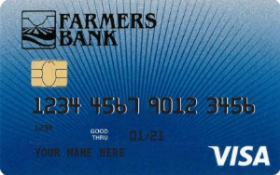 It's everywhere you want to be!
Farmers Bank's Visa® Credit Card is available to consumers that desire convenient buying power on a line of credit. Apply at one of our branches today!!

 View your Credit Card activity, transactions, and history
You can now view your Visa® Credit Card activity, transactions, history, and payment information online. All you need to do is go to https://onlineaccessplus.com/oa/farmersnatlbank/ to inquire or enroll.
*Certain restrictions, limitations and exclusions apply. Please call your Issuer directly to verify the specific benefits included with your Visa card. You can also view general card benefit details by clicking on the benefits listed above.

**Covers U.S.-issued cards only. Visa® Zero Liability policy does not apply to commercial card, ATM transactions, or to PIN transactions not processed by Visa®. See your Cardholder Agreement for more details.